STRENGTH TRAINING - WHAT TO USE, WHERE TO TRAIN
What equipment should you use to achieve success in your strength training?

Here are some LIVING STRONG suggestions.....
Use freeweights instead of machines whenever possible. Our body was designed to pick up unattached objects, use them, and set them down again. Whether it is a tool, a bale of hay, a can in a cupboard, or a dumbell, this action of lifting and setting back down requires sufficient strength, balance, and an adequate range of motion. If the weight is attached to something (pulley, cam, lever), we have to compromise our genetic engineering to adapt to the leverage of such an unnatural movement. Weight machines are modeled after the perfect motion of gravity and freeweights, and at best weight machines can only provide a partial and poor imitation of freeweight movements. Consider this: The "ultimate" fitness machines of ten years ago claimed to have "freeweight like motion", and have now been superceeded by the new-improved "ultimate" machines of today. All of these machines will someday be outdated, worn out or abandoned, will be sold off to the scrapyard and melted down into freeweights!
Freeweights (dumbells and barbells) are the gold standard of strength training, and the machine makers strive to have their equipment compared with this standard making claims like "as good as freeweights" or "realistic freeweight like motion". Freeweights weigh exactly the same going up as going down, allowing our bones, muscles, joints, tenons and ligaments to function as they were intended, and provide the optimum range of motion for individual safety and maximum benefit. Weight machines inherently have resistance through the cables, pulleys, bearings and levers that cause the load to vary in weight through its motion. This results in an unnatural motion, which done repeatedly can lead to repetitive motion injuries like tennis elbow, carpal tunnel, and joint problems. The machines isolate muscle groups, compromise the effectiveness of the exercise, and deliver only partial benefit from each repetition.
Weight machines do have a use in fitness clubs, and can be useful for isolating some movements. However, my experience has been that freeweight workouts provide better success and fewer injuries.
Next time you are at a gym, take note of who is using what equipment. The three categories are aerobic (treadmills, bikes, climbers, eliptical), strength machines, and freeweight equipment. Most of the beginners waste most of their time doing too much aerobics. Then there are the people just learning to get into shape using the strength machines. The strong people that are in the best shape nearly all use the freeweights. Now you know, so you don't have to re-invent the wheel. Just skip the machines, and start with the freeweights and avoid wasting your time and energy by learning the hard way what I have just told you.
Freeweights are among the safest strength training tools available when used with proper training and perfect exercise form. However, if used incorrectly or with poor exercise form, lifting anything heavy can have risks.
Always use perfect form and the correct weight.
Where should you workout?
Living Strong trains clients in our Private Fitness Training Studio, as well as in schools, clubs, gym settings or in homes. Most of our personal training clients train in our Private Studio once or twice each week, and workout at home once or twice a week. After you have discussed your individual fitness goals with Living Strong, you will receive our recommendation for equipment you should use for your home workouts to help you safely and effectively reach your goals. For many clients, initial fitness goals can be achieved with a few simple dumbells and accessories that may cost as little as $50. But as your fitness level increases, you will need some additional basic equipment to work out safely and effectively by yourself in your home.
| | |
| --- | --- |
| | You can have your own home gym for about the cost of a one year membership at a typical club or fitness center. This equipment will provide a lifetime of service, and used in conjunction with our instruction will allow you to maximize and maintain your fitness as safely and economically as possible. |
Benefits of the Living Strong Studio and home workouts plan:
More convenient; increases consistency, maximizes results.

More time choices.

Saves time; no waiting for equipment, no standing in lines.

Privacy: workout in a private environment.

Control of the surroundings (time, music, visuals).

No peer pressure; others are not watching you or distracting you.

You don't have to be concerned with how you look.

Saves money.
Planning for a home gym.
Space:You will need an indoor area eight feet by eight feet minimum. The recommended equipment actually only takes up about as much floorspace as any other home fitness equipment would, but will never have to be replaced, and is all you will need for a lifetime of optimum fitness. A spare bedroom, corner of an office or family room, basement, or even a porch or garage (climate allowing).
Cost: A great home workout area will only cost about as much as a one or two year's club membership, usually in the $600 - $900 range, which is much less than any of the popular consumer machines like the Bowflex. This equipment will pay for itself many times over in the emotional and physical benefits of looking and feeling good, and with the time and money saved in foregone health care and medical bills.
Equipment list:
Power cage (squat rack), adjustable bench, olympic weight set, standard weight set, weight trees plate holders, Manta Ray shoulder pad, accessory bars.
This freeweight equipment is really all that you will need, and is a lifetime investment in your health and fitness.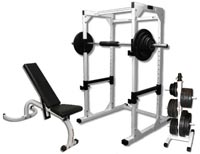 The power cage is your ultimate safety spotter, and allows you to exercise confidently and safely by yourself. The cage has adjustable stops and holders for the weights that will safely and surely hold the weight.
The weight trees hold the weight plates and keep them organized off the floor.
The adjustable bench can be used with the power cage or separately, and will comfortably support your body and the additional weights in many positions.
The 300 pound cast iron Olympic weight set is sized correctly to be used in the power cage, and the 110 pound cast iron one inch dumbell and barbell standard weight set will be used for exercises not in the cage. The Manta Ray is a bar pad for making your squat exercises safer and more comfortable, and the other listed accessories I highly recommend for the safest and most effective workouts. I have researched the price and quality of all of these items and recommend the following. Most of these items can be ordered from the links to the recommended dealer, and will be shipped to your door. The items without a link can be picked up at a local Academy Sporting Goods, Sears, or Walmart.
Where to buy? I have done the shopping already, and the following are proven items that are affordable and have worked well for many of my clients, We are not an equipment dealer, but here is a sample of what to look for.....
| | | |
| --- | --- | --- |
| ITEM: | APPROX. COST NEW | DETAILS: |
| Squat rack (power cage) | $500 | |
| Adjustable bench | $150 | Bowflex Bench – Adjustable 3.1 Series, Sports Authority store |
| 300 pound cast iron Olympic barbell weight set | $100-$150 | Local sporting goods store, Academy, Sears, Walmart |
| 110 pound cast iron one inch dumbell and barbell set | $45 | Local sporting goods store, Academy, Sears, Walmart |
| Weight Tree, plate holders for one inch plates (2) | $45 ea. | |
| "Manta Ray" squat pad | $40 | |
| ARM BLASTER for bicep curls | $35 | |
| Bicep curl bar | $30 | |
| Tricep bar | $35 | |
Have Fun! And enjoy your new health and strength with a fit and trim body!